NexGen Portable Staging
Manufactured in: UK
Deck Sizes & Weights:
1x1m (8kg) & 1x520mm (4kg)
Available Heights: 200mm, 300mm, 400mm, 600mm, 800mm, 1000mm, (bespoke available)
Weight Loading Capacity: 1x1m Deck at 400mm (3.7kN)
1 Deck & Leg Assembly time: 27 seconds – Video Illustration on the NexGen website
Storage: Trolley or Flight Case
3x2m Stage Package Quotation as at Jan 2017: £1199 (Education Arts & Leisure Organisations qualify for Grant funding towards staging costs, excludes offer packages)
The customer service, portable stage products and after sales service is 5 star.
We put everything possible forward to the test with this product, and it out-performed most. Portable Stage have been around for a long while, and it shows, the knowledge they have about Portable Staging is very high. They are constantly improving staging products and features with the end user in mind. The NexGen product and next generation deck platforms are innovative, and they have now taken the step of discontinuing their 2x1m platforms has they feel it is not necessary to use this size given the advantages of their "No Locks" 1x1m system. The 1x1m stage platform modules are priced to almost match the larger ones, making them easier to store and very easy to manage, when assembling.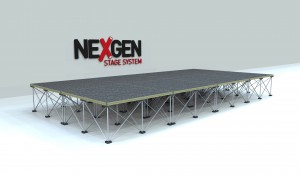 Offers a 1 year failure guarantee, with 5 year warranty guarantee.
Manufactures products to ISO British Standard Quality standards.
Gives up to 45% grant funded discount from the RRP to Educational, Arts and Leisure or Charity type organisations
Decks have safety corners as standard, great for schools, kiddies safety, and legs when passing the stage
Risers come packed in boxes, so they keep their structure for a long time
Also offers 1x520mm modules for choir type configurations.
They have a "Portable Staging Visual Quote Builder Tool" online, which shows the stage you are likely to get whilst building a quote request. 
Browse the site here – www.portablestage.co.uk