Choir Staging
A guide to buying staging for a choir or Choral group. Things to consider when planning to buy portable staging for a choir.
It probably goes without saying that you will have already considered applying for a grant to fund your platforms.
There are a few things to consider when planning to buy a portable stage for choir use:
Modular staging is usually more economic using the biggest pieces available to create your area. Although this creates a trade off between transport-ability and cost.
So with this in mind. Answer these questions and you'll be able to fine tune your requirements.
Will you be seated or stood on the deck platforms?
Seated – you need 1m deep decks with a kick plate attached to the rear to stop chairs falling off.
Stood – you need 0.5m deep decks – depending on the drop at the rear, you may want to consider handrails.
Do you have access to a van or will it be transported in members cars?
Van – go for the 2m long decks – these are more economic
Car – you'll need 1m long decks to fit in the cars
Will you use the floor as the front row?
How many members do you have?
You can gauge a rough idea of how many metres wide, and tiers are required.
In comfort you can seat 2 members per 1m on a deck platform – but you can probably stand 2 to 2.5 members depending on whether they are moving about or not.
So for instance a 5m wide tier would seat approx 10 members, but may stand 12.
From a weight capacity point of view, most staging nowadays takes at least 900kg per sq/m – some up to 2 tonnes p/sqm.
If you are using the front row on the floor then a typical 5m wide configuration with 3 tiers would easily fit 40 members.
What about heights?
Generally choirs want an even rake – so we suggest from the front row on the floor going to the first tier at 200mm then 400mm, 600mm and maybe even 800mm (4th level) and 1000mm (5th level) if required. Bespoke heights will cost you more so trying to stay within the industry stock standards is better for the pocket.
Dont forget to add the thickness of the deck to the finished height, lots of which are around 30mm thick.
So now you have a rectangular tiered configured for your members amount and style. What if you require a curve or arc to the layout?

You can obtain wedges, these wedges are specifically designed to be placed in between rectangular decks to create a curve. The more wedges you add the more of a curve is created, balancing the curve means adding an EVEN number of wedges for ODD width metres, and ODD number of wedges for EVEN width metres.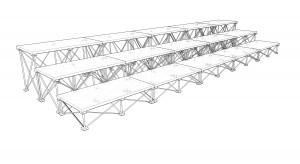 For instance if you have 5 x 1m wide tiers, you could add either 2 wedges or 4 wedges to keep the balance.
Lastly consider the back tier safety?
Handrails would be sensible for 2 or 3 foot high tiers. However if the back tier is against a wall or the members on the back tier are seated then simple chair stop plates should be used. The chair stop and the chairs themselves provide a natural barrier.
Fixing
All decks and risers join together using the locks associated with each individual brand. Modular portable staging is rapid fit, and a stage to house 50 members can be assembled within 15 minutes by a handful of the choir. Its also very light so anyone can help.
The tiers are fixed together so they don't come apart using the riser clamps, at intervals along the run of modules.
If you have found this article helpful, leave us a comment.