Stage Systems Portable Staging
Manufactured in: UK
Deck Sizes & Weights: 750x750mm (10kg)
Available Heights: 510mm (others available)
Weight Loading Capacity: 750mm Deck at 510mm (2.1kN)
1 Deck & Leg Assembly time: 1.2 minutes initially – then 30 seconds from there on in.
Storage: Trolley
3×2.25m Stage Package as at Mar 14: £1995 (includes trolley & step)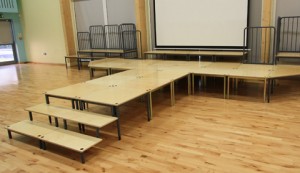 Probably the best feature is that the decks can be reversible. A bit like attaching tables together, but works non the less. The wood surface can be very shiney, and bit slippy, but the opposite side can be carpeted if required. UK manufactured with a full parts service for maintenance. Storage is very neat and compact on a single trolley system without dismantling. A 15 year guarantee means if cared for properly, its a worthwhile investment. Made to FIRA standards.
Website: http://www.stagesystems.co.uk/